HFA: Garrett and Cabal by Cynthia
Shaharw drew the boys being each other's foil in a fencing match, because after all they're constantly going at it, right?
Comic of the Week ΓΆ€" Week 3
Arbalest by Mitsukaiten
Haelu is a Night Twin, a monster doomed to be sacrificed during the long six months of darkness that blankets Arbalest. She wants to escape the fate that the townspeople have outlined for her.
What it Takes by KEZ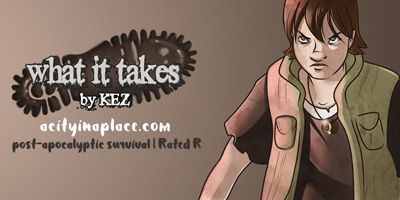 In 2004, the world ended. Technology failed, disease reigned, and humanity fell--all except for a City in a Place. There, in a hidden civilization of scientists, doctors, and engineers, life as we know it continued...and everyone else wants what they have. The City will stand or fall based on the choices of a wandering survivor as she uncovers a history with the City she never knew she had. Join Colbey as she searches for her lost fiance and finds more than she ever bargained for. Rated R for violence and profanity.