20180201
Got to Go...
I had a bit of difficulty with how this was playing out in the comic with what was in the written version. There were things I liked about both... ultimately I went with something closer to the written version. There had to be that hug!!
Comics of the Week - 4
Post apocalyptic survival in three very different environments! Whether rival political factions or a monster wanting to move beyond her "destiny." These sci-fi offerings will keep you reading!
Demon Archives by Dan Sharp- As Captain of the Keleres, Tenzin Dorje led his team to defend the people of Minerva from raiders and rival factions. But when a new enemy destroys the Keleres and seriously wounds Tenzin, he'll have to face his personal demons to restore peace to the region.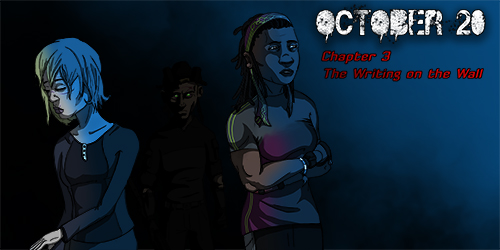 October 20 by Marius Hjelseth- For 12 years, Catherine has suffered agony, isolation, loss and betrayal. Now, she faces her most formidable monster. Her own guilt. Get ready for the final chapter of October 20, as Catherine returns to where all her grief began. Along for the ride are a few surprise allies. And enemies.
Arbalest by L. Potyondy-Edens - A reluctant monster with six months to live learns to transcend her role in an isolated, fearful village.