20190214
Filler: General Claudius
Okay so I've been struggling more and more with getting my pages done this past three weeks. Events have piled up to make it near impossible for me to sit down and do the art work. So while I have a three day weekend this weekend and could kill myself to get the pages knocked out under the wire, I've realized that I don't need to stress myself out in that manner.
So I am taking a week's hiatus on both comics to catch up.
So this guy... oh this guy.... he is the reason I ended up writing "Rise of the Crimson Death" the next TOHS novel I plan on publishing. Well... him and his twin brother Salus.
This is General Claudius Aurelius one of the first Devil's Own to come into being, and one of the only twins ever to be allowed into the Cadre. His brother Salus is actually older than him, but hasn't shown much maturity in his 160+ years.
So the idea of including them in "The Devil's Own" came late in the story (pretty much at the end) and I regretted not getting them involved before that. So I went back and created "Rise of the Crimson Death" to flesh out their story, along with Cherlize, and her protector Hannibal. It's a pretty tragic tale, but one I've loved from the start. I can't wait to get Cladius and Salus into this comic, but Alas it will be a long time from now. :(
Comics of the Week 6!
This week's comics are all about adventure in fantastic worlds! Really solid fantasy settings and unique takes on the genre to boot! Check em out!
Castoff - Vector always dreamed of traveling. He got kidnapped instead. Now, with the help of a short-tempered bounty hunter, a happy-go-lucky cartographer, and many more unlikely friends, he has to try and make it home in one piece.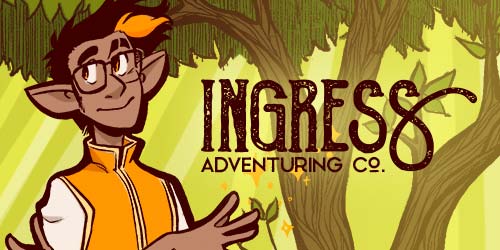 Ingress Adventuring Company - Toivo Kissa is Ingress Adventuring Co., a very small, very wizard-based dungeoneering service. No job is too small, though sometimes his adventures are problems of his own making.
Children of Eldair A sorcerer saves a girl from flesh-eating demons. After trying to use magic to find her friends, he's trapped in a vision of the past--one that will help him save the world and the girl he loves.